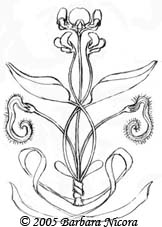 The Plant


Scorpiurus muricatus L. (prickly scorpion's tail, scorpion's tail, caterpillar plant).



Vector Graphic


This work was commissioned by B.B company. I drew the illustrations and my sister Arianna transformed them in vector graphic files. She is a professionist in computer graphic and she founded the "Studio Tsunami" with Paolo Zambelloni, Laura and Luisa Lodetti.
Below are links to the finished works.